Business Solutions

Pipe Inspection Service

Surface Pressure Washing
We're the area's leading provider of storm water solutions.
Serving Whatcom, Skagit and Island Counties.
SOME OF OUR MOST POPULAR SERVICES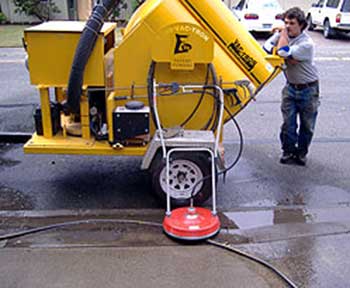 Business Testimonials
When repairing or installing storm drains there is only one company that I call to check my work with and that company is Enviro Northwest. They have the best equipment for viewing underground pipe work as well as high-powered water jetters. In fact, the importance of viewing the pipe before you do anything else can save the customer time and money for a repair that may not be needed.

— Jim Curlett
Owner
Cedarside Dirt Works
Due to the large amount of construction happening on campus our storm drain systems need to be maintained and kept clear of debris in order to prevent flooding. On occasion I have relied upon Enviro Northwest's vactor equipment to remove and dispose such debris that allow the proper flow of storm water run off. Enviro Northwest offers many other service such as water jetting, pipe camera and surface cleaning which are tools that will save both time and labor costs.

— Cory Anderson
Grounds Crew
Western Washington University
Many of our irrigation installations require boring under sidewalks and driveways which can be difficult, costly and time consuming. I called Environorthwest to try their boring services and was amazed at how efficient, clean, and prompt their service was. Working with Environorthwest has made our jobs more profitable by cutting time and keeping costs down with their affordable prices. Great company to work with!

— Brett Mason
Owner
Mason Landscaping
Residential Testimonials
When my wife and I were selling our house, we hired Enviro Northwest to pressure wash our driveway and sidewalks to help prep the house for sale. Mike showed up on time, took care of everything and did a great job. It really helped us by eliminating one more thing we didn't have to deal with. I'd recommend Enviro Northwest to anyone.

— David Eldred
Homeowner
Late in the fall of 2006, I installed a irrigation system in my lawn. I needed to get pipe under my sidewalk in 2 places. I called Mike and he came right out with his truck and blew a hole under the sidewalk and then used the vacuum to suck out all of the overburden. I took just a few minutes and was a lot easier than trying to drive a pipe under the sidewalk as I have done before. I highly recommend Mike Murk and his services.

— Ron Miller
Homeowner
I am a believer in preventive maintenance. We asked Enviro Northwest to come clean out the rain gutter drain lines that had become clogged with pine needles and leaves. Not only did they get rid of all the debris, but they showed us a video of the clean drain lines when they were done. It was pretty cool.

— Bellingham Resident
Homeowner
I need help. What do I do next ?
Contact us via contact form below and we will get back to you (within one business day) to discuss a solution right for you.
Pipe Examination Service Video